To manage your employees, go to the settings->employees screen.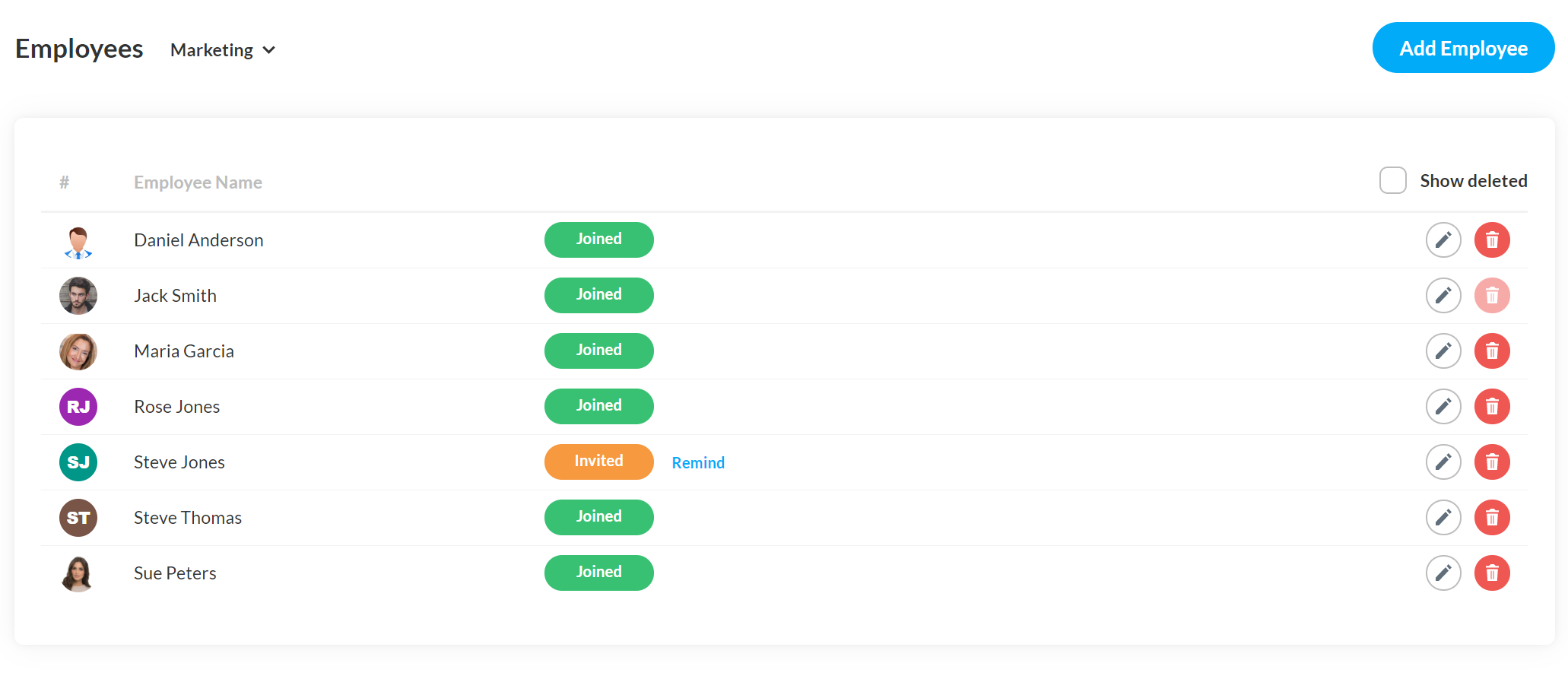 To add a new employee click the Add Employee button.
To delete an employee click on the bin on the right-hand side opposite their name. Any employees which were previously deleted can be restored by ticking the 'Show deleted' option and then clicking the restore button next to their name.
To edit an employee click on their row, this will open a new window with 3 tabs.
Employee Profile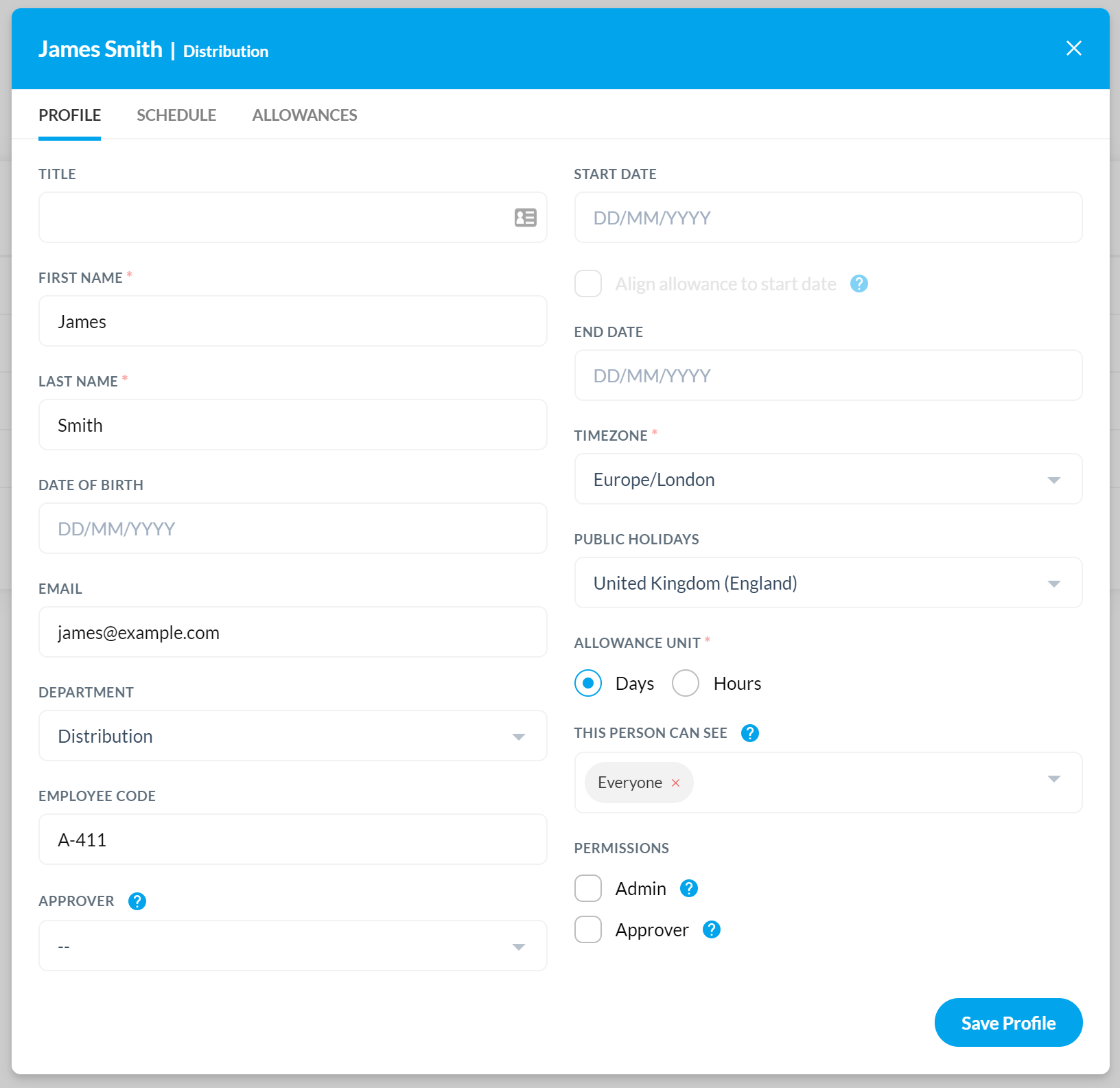 The profile is the screen where you can manage key information about your staff.
Title / First Name / Last Name - of the employee. You can only have one person of the same name in your company. If you have multiple people with the same name you will need to add their middle initial to differentiate them.
Date of birth - When you enter the employee's date of birth, you will receive reminders about their birthday in the Next 7 Days report in the Summary screen, the mobile app and Slack report. Leave Dates does not show their year of birth to non-admin users. The employee has the option to hide their birthday from other users in their profile settings.
Email - To invite an employee to join Leave Dates you can enter their email address here. If you do not enter their email address, you will need to manage time off on their behalf. Once you have added an email address you have an option to invite them, no invitation will be sent until you click this.
Department - Select from your departments. How to set up your departments
Employee Code - The internal company code for this employee (if you have one).
Approver - Select from a list of approvers. How to set up who approves new requests
Start date - This is the date on which the employee started with the company. If you wish to align their allowances to start on this date then tick the 'Align allowance to start date' box. You can read more about this feature here.
End date - This is the date on which the employee left the company.
Timezone - The timezone where the employee works, by default this will be set to your timezone.
Holiday Location - Select from your holiday locations. How to set up public holidays
Allowance Unit - Whether the employee's leave is taken in days or hours.
This person can see - This gives you control over who each employee can see in the wall chart. Setting this for an employee overrides whatever has been set for their department. Control what staff can see in the wall chart
Permissions - The permissions given to this employee in the system. Understanding roles in Leave Dates
When you're finished making changes, click the 'Save Profile' button.
Working schedule
Leave Dates allows you to define a working schedule for the company, and then override it for individual employees.
To set a working schedule for an employee, click on the SCHEDULE tab within the settings->employees screen. You can specify their contracted hours (hours per working day) and their standard hours.
If the employee works half-days then you can un-tick the morning or afternoon sessions (in the below example the employee is not working on Thursdays or Fridays).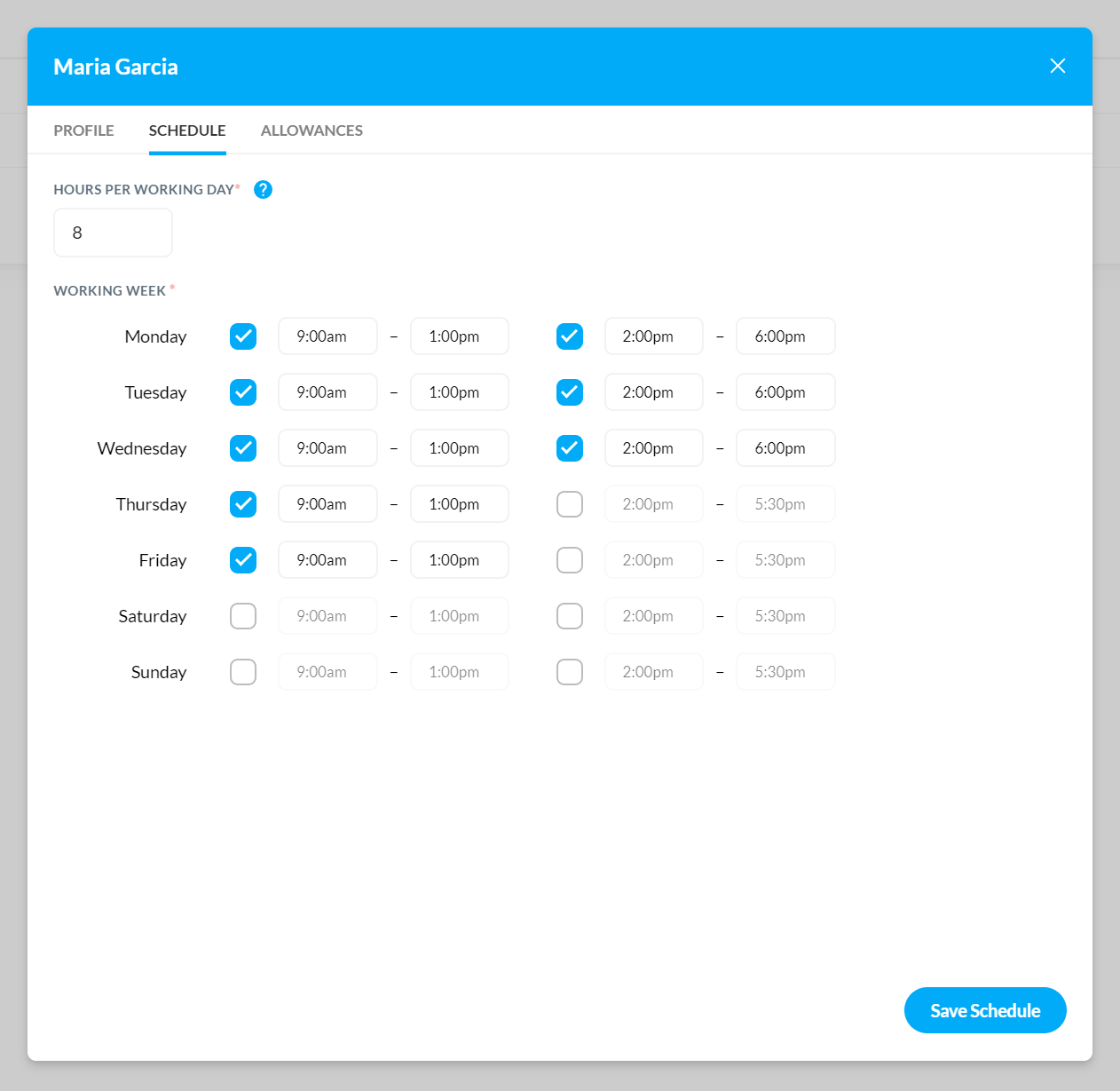 Once you have finished making changes, click the 'Save Schedule' button.
Tips
It is important that your total number of hours in your working day equals the 'hours per working day' given above. Likewise, you should try to split your morning and afternoon session equally.
To save you time entering schedule information, we have provided a handy 'copy' button which appears when you hover over the schedule. If you click this icon (shown below) it will apply the same times to the other days.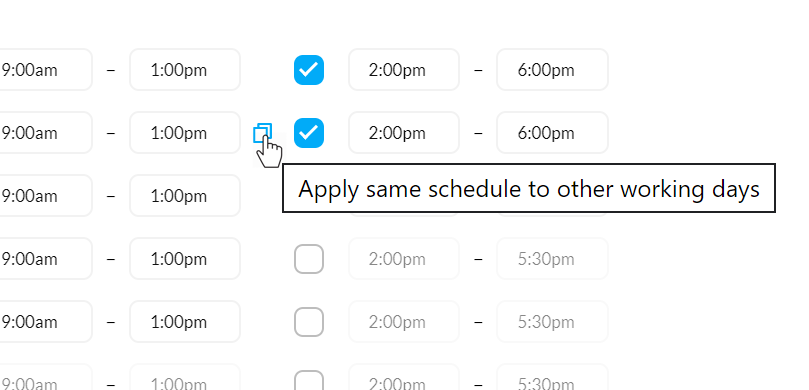 Leave allowances
Leave Dates allows you to define the types of allowance offered by your company, along with the default amount.
Allowances can also be assigned to each employee within the ALLOWANCES tab within the Settings > Employees page.
In this tab, allowances are shown for the current calendar. Use the dropdown to select a different calendar or follow these instructions if you need to create a new calendar.
For more information about managing employee allowances, read our full guide on Assigning Allowances to Employees
Notes
You can set the default values for new employees in the Settings > Allowances screen.
When you create a new calendar, the allowances for the new year will inherit from the previous year for that employee.
If you want to manage time off in lieu (TOIL) then this is the guide you need - Time off in Lieu (TOIL)
Managing an employee's carry over is described in this article.