A leave allowance is a way to limit the number of days or hours which can be taken of a particular leave type.
This article gives step by step instructions on how to configure a leave allowance for your company.
Allowances can be adjusted for each employee which is explained in a separate article.
How to configure leave allowances in Leave Dates
Go to the Settings > Allowances page to view the allowance configuration.
In Leave Dates it is possible to configure as many types of allowance as you need. They are listed as shown below.

To create a new allowance, click the Add Allowance button. To edit an allowance, click in the row or on the pencil icon. A new popup will appear as shown below.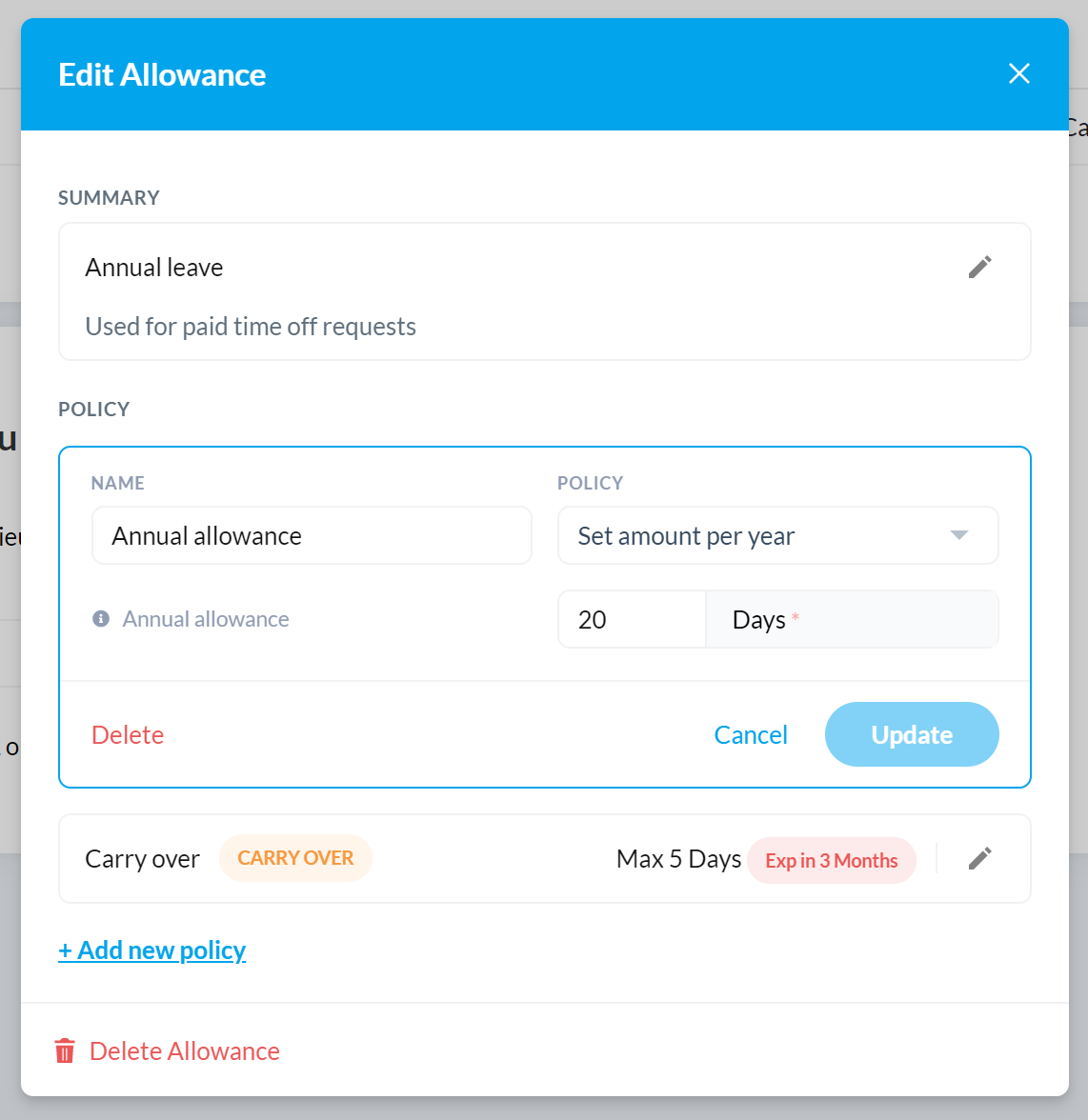 Leave Dates allows you to have multiple policies which add up to the overall allowance.
In the above example, an employee's Annual Leave Allowance is calculated as:
Annual Leave = Annual allowance + Carry over
It is possible to add multiple policies to the same allowance, for example:
Annual Leave = Annual allowance + Birthday leave + Purchased leave + Long service + Carry over
Policies are always added together.
Allowance Policies
An allowance is made up of one or more policies. There are two types of policy:
Fixed amount per year
An employee is given a fixed number of days (or hours) on the first day of the leave year.

It is possible to have many of these policies adding together to form the total allowance, and the default value you provide will be given to all new employees.

When a new calendar is created, employees will be given the same amount that they received in the previous leave year.


Carry over unused allowance
Used to carry over unused leave from one year to the next.

It is only possible to have one of these policies in an allowance.

Carry over is run automatically on the first day of the new calendar based on the 'Maximum carry over' amount provided. If the carry over policy is given an expiry period then any leave which is untaken at the end of this period will be deducted from the allowance.

For more information about managing carry over, read this article.
Next
Now you have configured your allowances, the next step is to set up leave types. For each leave type, you will specify whether or not they should deduct from a leave allowance.