You can import public holidays from over 150 countries into Leave Dates.
In this article, we explain how to import public holidays, how they are shown in the system, and how they impact taking leave.
Steps to import public holidays
Go to the settings menu (via the cog icon) and click the Holidays link.
Initially, you will have no public holidays configured, so click the 'Add Holiday' button.
Select a country and enter the year you want to import holidays for.




You will then be shown all the public holidays for that country.
If your country has multiple regions, then you will be shown all national and regional holidays. You need to remove the regional holidays which are not relevant for you.




The selection box at the top will default to the name of the country you selected, but you can type in your own custom location name if you like. 
If you have any additional free company holidays then you can add them in the 'Other Holidays' section at the bottom of the form.
When you are ready, click Save.




Follow the same process for future years.
You can then assign each employee to a specific holiday location by editing the employee in the Employee settings page.
Alternatively, if all employees use the same holiday dates, you can simply click the 'Assign to All' link within the Holidays settings page.



In this 2 minute video, we step through how to import public holidays
How public holidays impact the wall chart and leave
Public holidays are shown in the Wall Chart as shaded out, as shown below.
If you try to book leave over this date, then it will not deduct from your leave allowance.
As a result, you should not include public holidays in your annual leave allowance.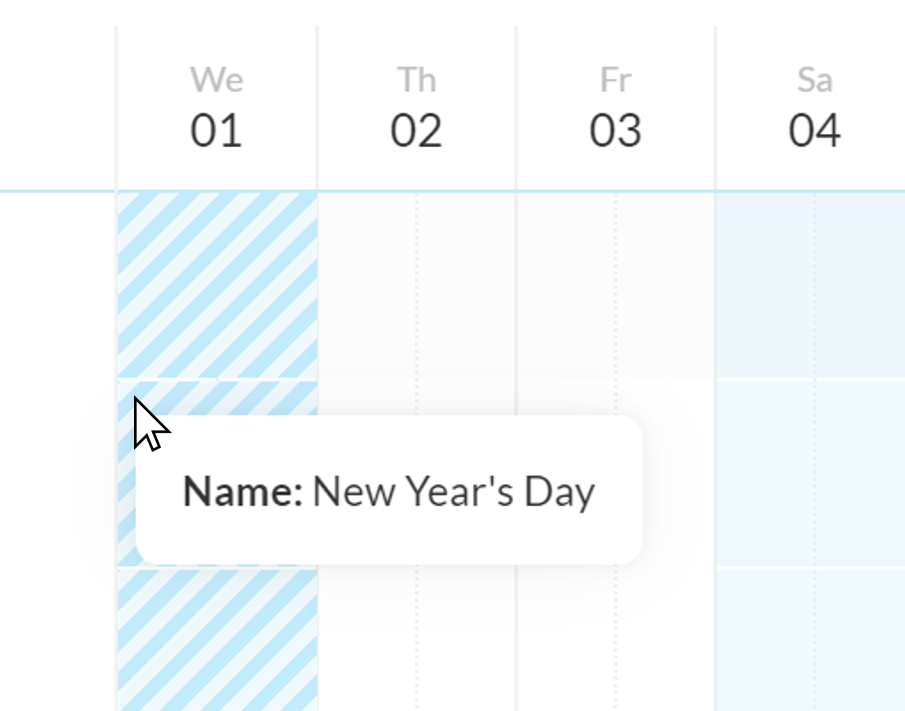 Is it possible to include public holidays in our leave allowance?
If for some reason it is important to include public holidays in your leave allowance, then the best option is to create a 'Public Holiday' leave type which deducts from the Annual Leave allowance. Then you could manually add the public holidays (or use the bulk data import tool) for this leave type, and then will deduct from the same allowance as annual leave.