What are calendars?
In Leave Dates, a calendar is a leave year.
Each employee has allowances for a particular calendar and requests within that year are deducted from those allowances.
Calendars are managed in the Settings > Calendars page.
Automatic vs Manual calendar management
To make the process of managing calendars easier, you can allow the system to manage calendars automatically. When this is On, calendars will be created in advance of the current calendar ending and will be hidden after the calendar ends.
We will never automatically delete calendars for you, this can only be done manually by the admin user using the steps shown below.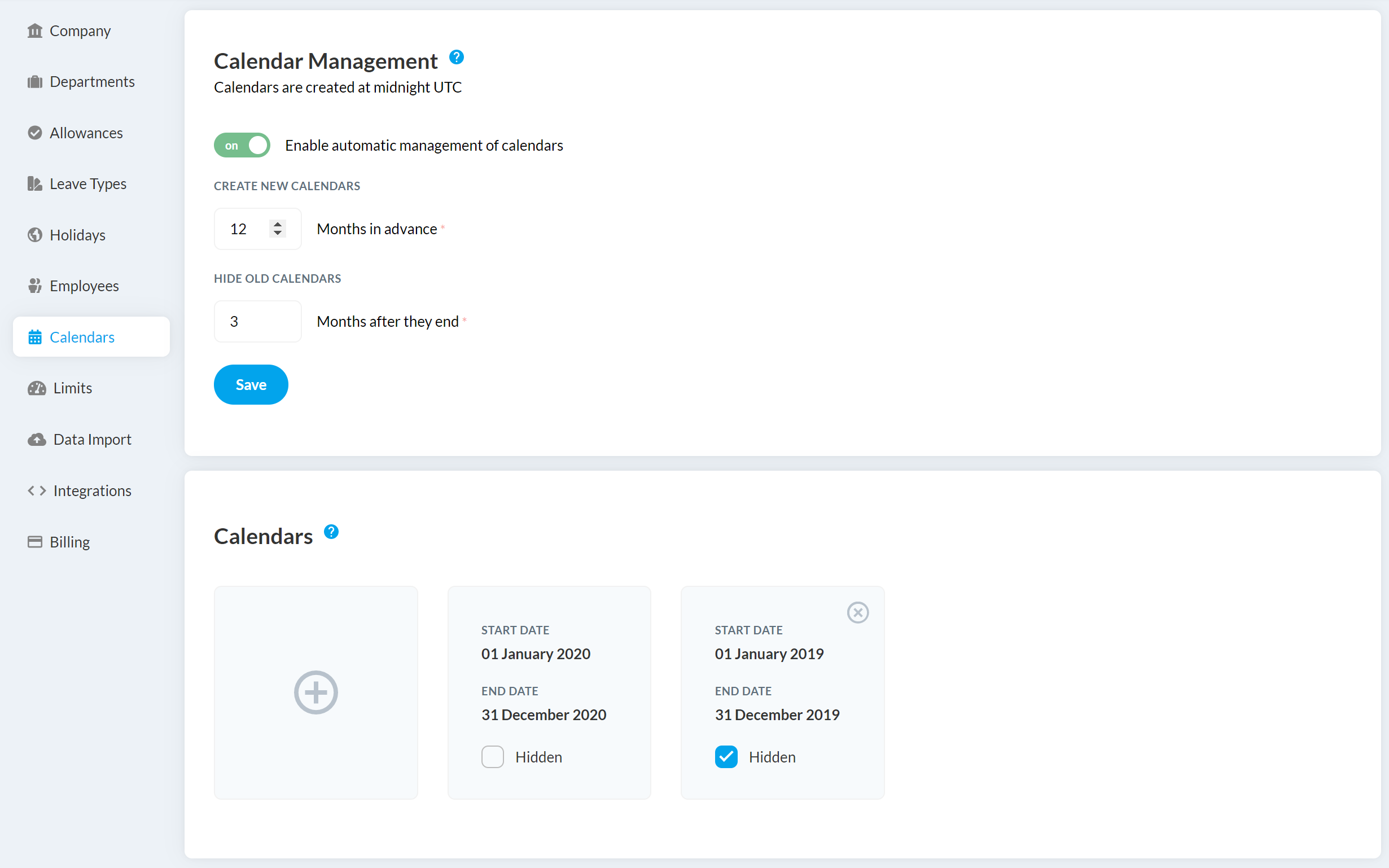 Creating new calendars manually
If you have not enabled the automatic calendar management option then you will need to create a new calendar when you approach the end of the current calendar.
Click the + button to create a new calendar. The new calendar will always have contiguous dates with the previous year to avoid any gaps. After pressing the + button, the process of creating a calendar can take up to a minute, depending on the size of the company.
After creating a calendar manually, the Hidden box is ticked. This is ticked to avoid any users seeing the calendar until you are ready for them to request leave in it.
After creating the calendar you should administer any employee allowances which have changed since the previous year.
Once the employee allowances are in place, untick the Hidden box so your team can view the calendar in their My Leave screen and request leave.
What does Hidden mean?
The Hidden tick box allows you to hide a calendar from your employees while you perform the necessary set up work.
When Hidden is ticked:
Employees cannot request leave for that year.
Employees cannot see allowances for that year.
Admin user can view and edit allowances for that year.
When Hidden is unticked:
Employees can request leave and view their allowances for the year.
It is good practice to hide old calendars from view once the year has finished to avoid any further changes being made once the year has completed.
What happens if I delete a calendar?
You can delete calendars as long as there is at least one calendar remaining. Press the X button on the calendar box to delete it. It is not possible to delete the current year.
When you delete a calendar, you will no longer be able to view the allowances for that year but you will still be able to report on leave taken. Only delete a calendar if you are sure that you will not need to report on allowances for that year.