Leave Dates is very flexible in the way it allows you to define your company leave allowances. You can choose as many leave allowances as you like, and have them made up of multiple 'breakdown' elements (this is explained later).
Leave types can be configured to deduct from those allowances to ensure that employees cannot take more of a particular leave than allowed.
Leave allowances vs. Leave types
Leave Allowances
Leave Types

A leave allowance sets the limit of what an employee is allowed to take.

A leave type is what the employee actually takes.

A leave allowance should have at least one leave type which deducts from it (otherwise there wouldn't be any reason to use them).

Not all leave types need to deduct from a leave allowance.

For example, a company would be unlikely to have a limit on how much Jury service leave can be taken.

A leave allowance can be made up of multiple breakdown elements (described below).

Multiple leave types can deduct from the same leave allowance.

"Peter is allowed to take 15 days annual leave this year"

"Peter would like to take a day of paid time off on Thursday"
What is a leave allowance breakdown?
To give you greater flexibility for how you manage allowances, the total allowance each employee receives can be broken down into one or more elements.
For example, an annual leave allowance could be made up of their entitlement + carry over leave + bonus leave (for long service milestones). In this example, their allowance is broken down into 3 elements.
How to configure leave allowances in Leave Dates
Click the cog in the navigation menu, and go into the Allowances settings menu.
When you create a new company there is an allowance provided for you by default. You can either delete this using the bin icon, edit it by clicking on it or create new ones using the Add Allowance button.
If you click Edit or Add you will enter a screen like the one below where you can provide a name of the allowance and how it is made up of different elements.
Provide a default amount for each element which will then be given to new employees.
As you add new rows you will see the calculation changes. Please note that the elements are always added together.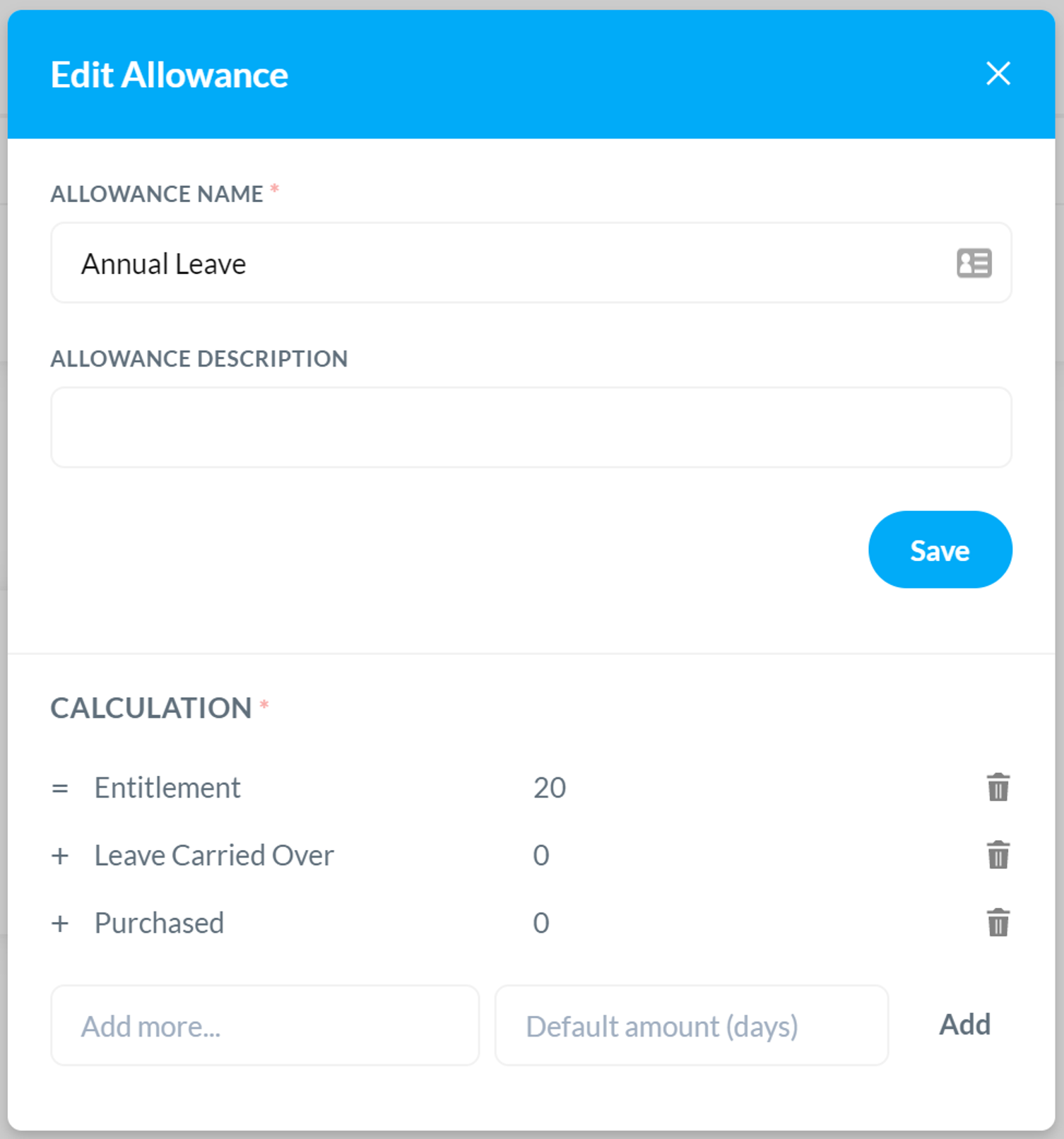 Assigning Allowances to Employees
If you have already created your employees, you can assign the leave allowances in the employee settings menu. More info
Next
Now you have configured your allowances, the next step is to set up leave types.