It is possible to set limits on the number of people who are allowed to be off on the same day.
Navigate to Settings > Limits

Creating leave limits
You can create as many limits as you need, simply click the Add Limit button and provide the information.
Company or Department - Specify whether you want to limit the total number of people off in the company, or in a particular department.
Maximum on leave - This is the maximum number of people who are allowed to be on leave during any of the dates you provide.
From / To dates - You can choose to provide dates for the period this limit should apply to. For example, you may wish to limit how many staff from the Finance department are allowed to be off during financial year-end. If you leave these dates blank then the limit will apply to all dates.
Displaying leave limits
Once you have configured the limits, the Wall Chart and My Year pages will automatically colour red on dates where the limit has been reached.
In the example below, an employee has taken 3 days off from the 1st to the 3rd and the wall chart has turned red on these dates for the other employees.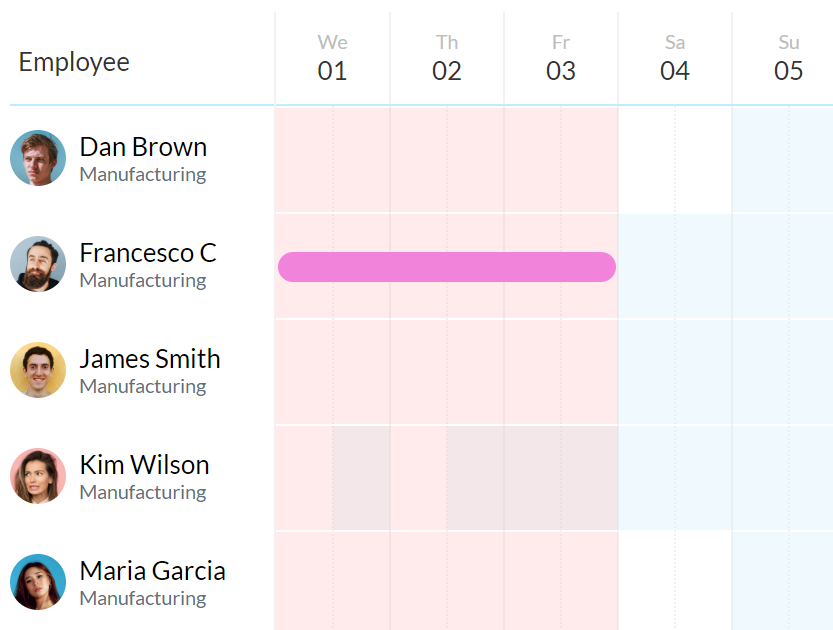 When attempting to request leave for any employee whom is affected by the limit, it will also show a warning within the leave request slide over.

If the requester has viewing permissions to see which co-workers are already on leave to reach the limit, their avatar will be shown in the warning, otherwise it will show the warning without further information regarding the reason that the limit has been reached.
Common questions
Can staff still request time off if the limit has been reached?
Yes, it is possible to book leave even if the leave limit has been reached, however you will receive warnings when you request the leave, and your approver will receive warnings when they approve the request.
What if there are multiple limits overlapping with each other?
If there are multiple limits which overlap, for example, on a particular day you are allowed 3 people off in the company but 1 person off in each department, then each rule will be evaluated separately and if ANY limits are reached then the dates will be highlighted red.
Does this work when using the mobile app?
Yes, you will receive the same warnings when requesting and approving leave on the mobile app.