What is Time off in Lieu (TOIL)
Time off in Lieu is defined as "time-off which you are allowed to take, instead of overtime pay, for hours worked beyond your contracted hours".
Read our article to understand the advantages and disadvantages of offering time off in lieu.
Leave Dates allows you to record and track time off in lieu
How to turn on overtime TOIL for your company
If your company allows employees to earn time off in lieu for overtime worked then admin users can enable it in the Settings > Allowances page.

TOIL recorded for an employee will increase the selected allowance of that employee.
How do I record time off in lieu for an employee?
Once you have enabled TOIL in the settings screen, navigate to the My Leave page. Time off in lieu will now be shown on the right side of the page under the relevant allowance.
Using the dropdown at the top of the page, select the employee you wish to record TOIL for. Then click the "Time off in lieu" amount shown in blue (currently 0 days in the screenshot above).
Enter the details of when the TOIL was earned, how much and the reason.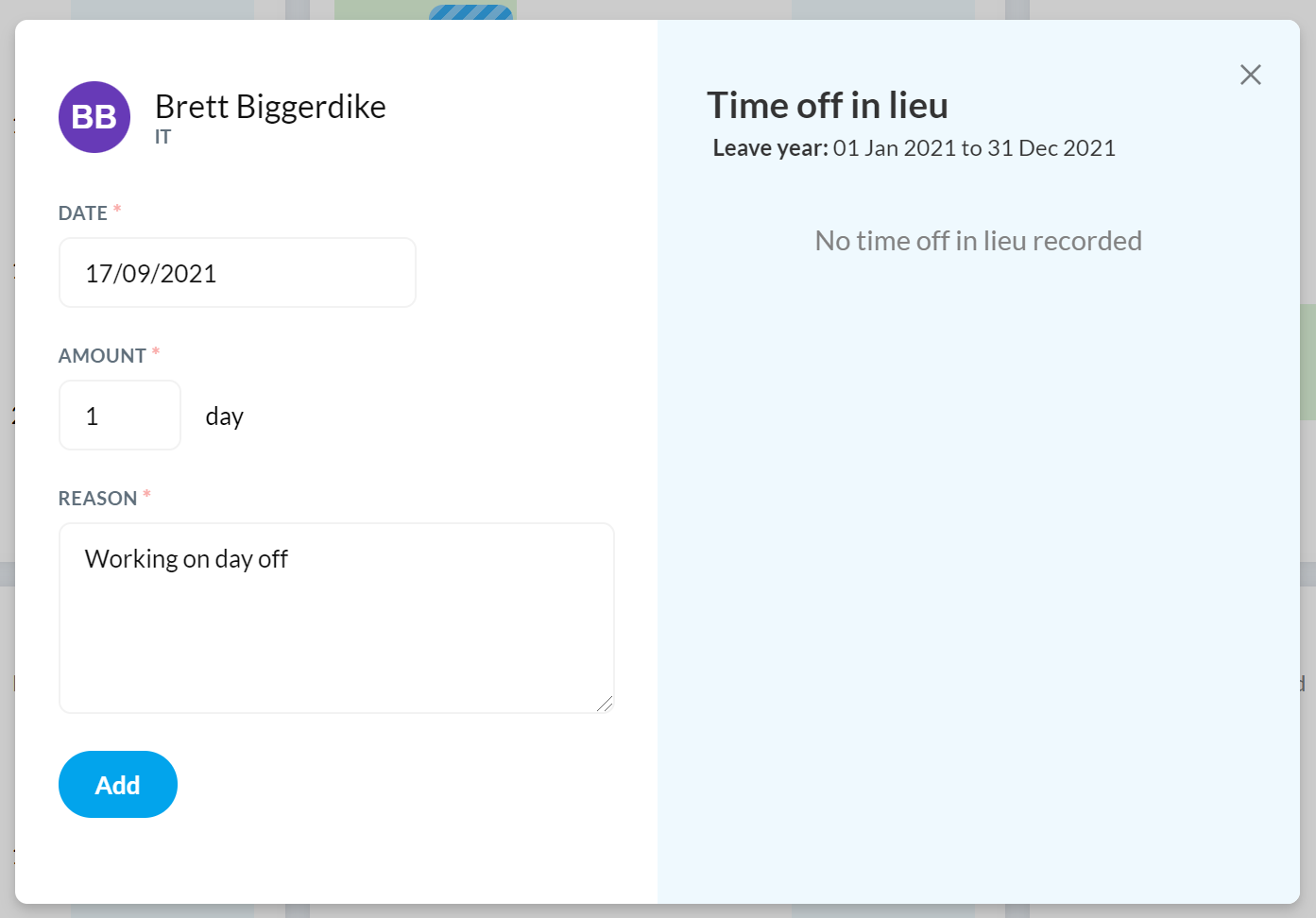 After adding the time off in lieu, the allowance will be adjusted in the My Leave screen (as below).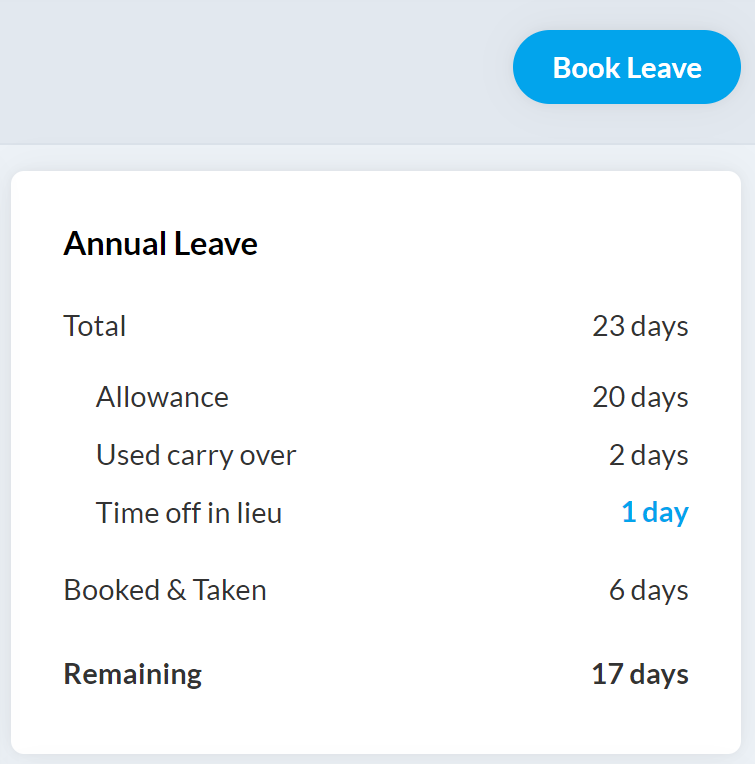 Time off in lieu will always apply to the calendar which was selected at the time when it was entered.
TOIL counts towards the total allowance used for carryover. Therefore, if you do not wish TOIL to carry over, you should keep it in a separate allowance.
Who can request TOIL?
Admin users can enter TOIL for all employees in a company, Approvers can enter TOIL for employees for whom they have approval rights. Normal users cannot request TOIL.
How to display Time off in Lieu in the calendar?
It is possible to display the earned time off in lieu in the Wall Chart, My Leave page and Next 7 Days area. Turn this on in the Settings > Allowances page and press the link to configure how it is shown.
The Title will be shown in the Wall Chart when users hover over TOIL entries and the Display Colour is the colour shown by the bar in the wall chart.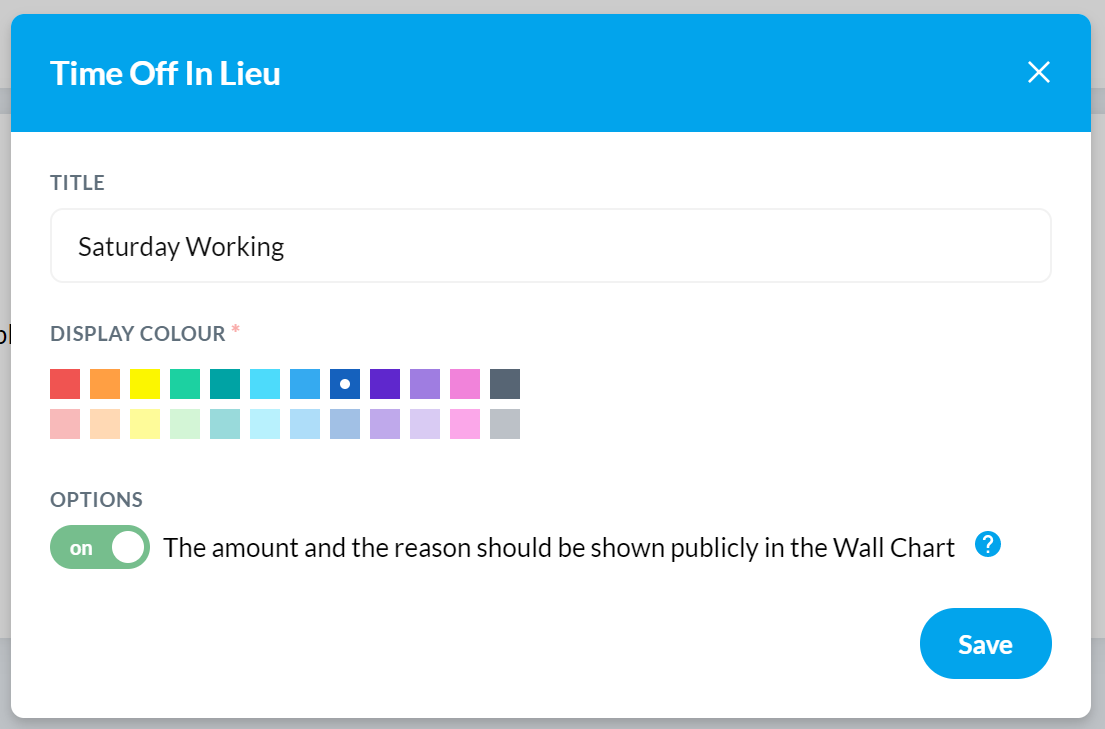 The Options toggle, allows you to control who can see the details of the TOIL entry. When it is turned on (image below left) the amount of TOIL earned (7.5 hours) and the reason for the TOIL (Working overtime on Phoenix project) are shown. When it is turned off (image below right) then the amount and reason are not shown.
The following people will always see the amount and reason:
Admin users
Approvers of the person who earned the TOIL
The person who earned the TOIL
| | |
| --- | --- |
| OPTIONS: On | OPTIONS: Off |
| | |