If you already have an active subscription and need to add some additional users to your account or move from monthly to annual billing (or vice-versa), this guide will help you understand how to do it and the billing implications.
How to amend a subscription
Only a company admin can amend a subscription.
Go to the settings page using the cog icon and click the Billing link.
Here you will see your invoices, billing details, current plan information and a section to update your plan.

In the example above, the company has a monthly subscription for 12 users.
To increase this number to 20, they would fill in the 'Update Plan' section with the new number of users on the plan and their payment card details. Leave Dates accepts both Credit and Debit cards.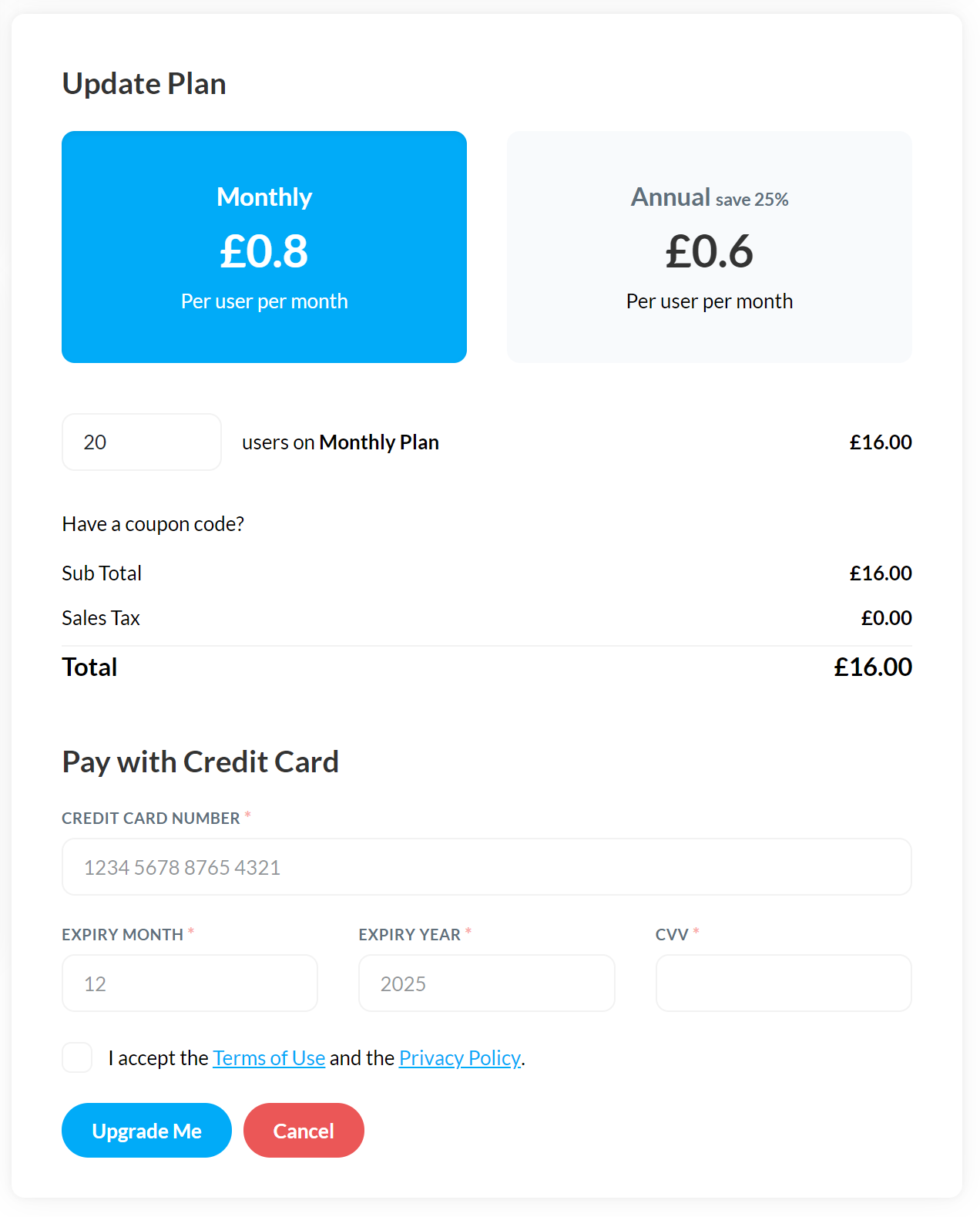 It is possible to:
Increase or decrease the number of users on the plan
Change the plan from monthly to yearly, or vice-versa.
Once you have entered all the relevant information and accepted the Terms then click the Upgrade Me box to change your subscription.
How the new bill is calculated
When you click Upgrade, a new subscription is started and the old subscription is refunded based on the unused period of your previous invoice. This pro-rata calculation is performed down to the second so it is very precise.
The refund is credited to your account and deducted from the first payment.
In the above example, the company had a 12 user monthly subscription and moved to a 20 user monthly subscription. If they did this halfway through the month then their new invoice would be for £11.20 (calculated as £16 for the new subscription minus £4.80 which was half of their previous monthly subscription).
If you move from a monthly to a yearly subscription then the same applies.
If you move from a yearly to a monthly plan or reduce your number of users, then you may be in a situation where the refund is greater than your new invoice amount. If this is the case then your initial invoice would be zero, and the remaining refund will roll over to your next invoice.
The logic can be quite complex which is why we rely on our industry-leading payment provider Stripe to perform it on our behalf. You can learn more about their method for applying these prorations by reading their guide here.