Leave Dates makes it easy to manage multiple companies from the same login, so if you are a provider of HR services for other companies this could be very helpful for you.
To create a new company, first log into the application and then click the company name dropdown. There is a link to 'Manage Companies' click this.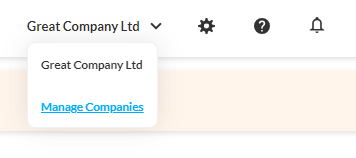 Then you can press the 'Add Company' button, and provide the company name, leave year start date and default allowance.
Once you have created this new company then you can switch between companies using the company selector as shown above.
Any action you perform will only be applied to the currently selected company and any users you add will only have access to the company they are added to.