As you near the end of the current Leave Year, you will need to create a new calendar for next year.
Click on the cog in the navigation menu to enter the settings menu. Then click the Calendars link.
You will see the current year shown with a big + button to the left.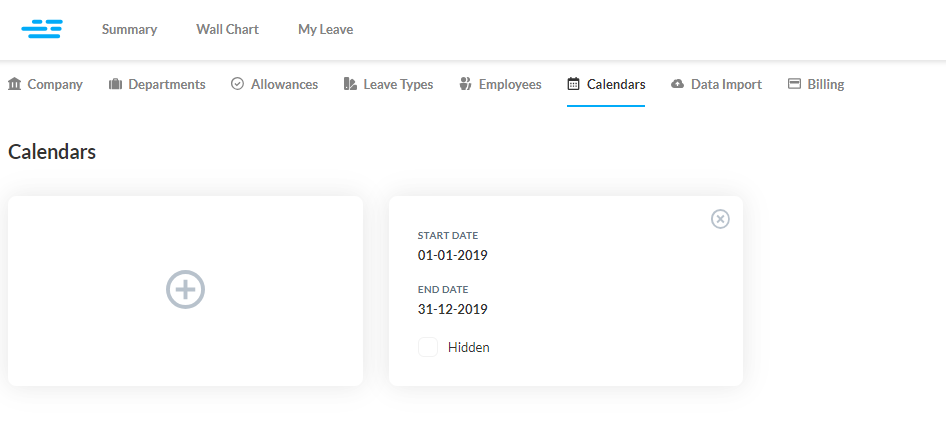 Click the + button, to create a new calendar. The new calendar will always have contiguous dates with the current year to avoid any gaps.
By default the 'Hidden' box is ticked. This is ticked to avoid any users seeing the calendar until you are ready for them to use it.

After creating the calendar you will need to administer all of the allowances for that year.
Once all of the employee leave allowances are in place then you should untick the Hidden box so that your team can view the leave calendar in their My Leave screen and request leave.
What does Hidden mean?
The Hidden tick box allows you to hide a calendar from your employees while you perform the necessary set up work. For example, you may wish to set up the employee's allowances before allowing the employees to view it. You may also wish to hide old calendars from view once the year has finished. When hidden is ticked then employees will not be able to see the calendar in the drop-down box in the 'My Leave' screen.
What happens if I delete a calendar?
You can delete calendars as long as there is at least one calendar remaining. Press the X button on the calendar box to delete it. It is not possible to delete the current year.