Leave Dates is very flexible in the way it allows you to define your company leave allowances. You can choose as many leave allowances as you like, and have them made up of multiple 'breakdown' elements (this is explained later). Leave types can then be configured to deduct from those allowances to ensure that employees cannot take more of a particular leave than allowed.
How does a leave allowance differ from a leave type?
Leave Allowance
Leave Type

A leave allowance set the 'limit' of what the employee is allowed to take.

A leave type is what the employee actually takes.

A leave allowance should have at least one leave type which deducts from it (otherwise there wouldn't be any reason to use them).

Not all leave types need to deduct from a leave allowance. 

For example, a company would be unlikely to have a limit on how much Jury service leave can be taken.

A leave allowance can be made up of multiple breakdown elements (described below).

Multiple leave types can deduct from the same leave allowance.
What is a leave allowance breakdown?
To give you greater flexibility for how you manage the leave allowances, the allowance was broken down into breakdown elements. Every allowance must have at least one breakdown element and this is where the employee is given their allowance.
For example, an annual leave allowance could be made up of their entitlement + carry over leave + bonus leave (for long service milestones)
How to configure leave allowances in Leave Dates
Firstly you need to set up Leave Dates to align with your company policy on leave allowances.
Click the cog in the navigation menu, and go into the Allowances settings menu.
By default when you create a new company there are 3 allowances provided for you. You can either delete these (using the bin icon), edit them (using the pencil icon) or create new ones (Add Allowance button).
Whether you click Edit or Add or you enter a screen like the one below where you can provide a name for the allowance, and how it is made up of different breakdown elements. As you Add new breakdowns you can see how the Calculation changes. Please note that the breakdown elements are always added together, so if you want to deduct you will need to enter negative values in the employee allowances (later).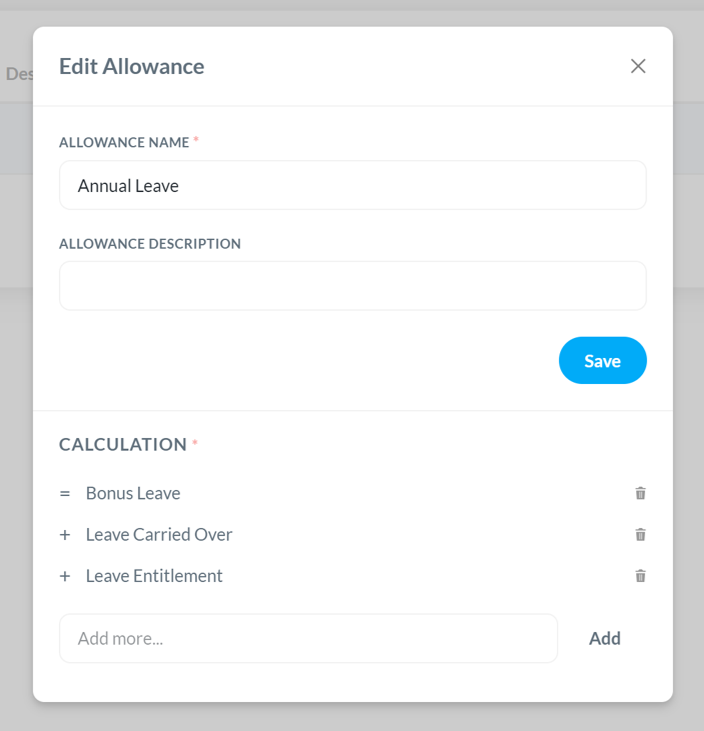 Setting Employee Leave Allowances
Once you have configured how the leave allowances should work, then you can start assigning allowances to your team. Go into the Employees settings menu and click the Allowance button next to one of the employees.
A popup will appear with the structure of allowances and breakdowns as configured earlier. Now you can enter the employee's allowances and this will be tracked against any deductable leave they take.